Sneaky Possum Rescue Adventure
Sneaky Possum Rescue Adventure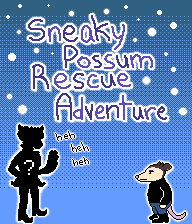 Save your wife from a mad scientist!
Note: There are a couple of bugs and unexplained features in the game. Due to time limitations, we were unable to include an opening premise to our storyline. We were also going to have an extra puzzle level. However the free edition of Construct 2 had limitations to the number of events we were allowed to have. These will hopefully be sorted out in the next couple of days. Thank you for your underestanding!
Have fun playing our game!

===============================================================
We are the Possum Punks, a team of 5 people consiting of 4 newbies and 1 experienced mentor.
We are submitting our first game jam project, Sneaky Possum Rescue Adventure, to itch.io for GAMERella 2017.
===============================================================